Aaron Chiropractic Centre
Disability, Health & Fitness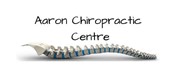 Company Details
Aaron Chiropractic Centre has provided individual, specialised chiropractic care to the Bundaberg and Wide Bay Region for 20 years.
They utilise the latest chiropractic techniques and rehabilitative exercises to develop a treatment program for the individual's needs.
People of all ages are welcome, including babies and children with musculoskeletal issues. 
Though not a registered provider, Aaron Chiropractic Centre can cater to NDIS participants,  who are self-managed.