Gracie Dixon Centre
Men, Seniors, Medical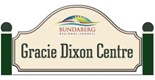 Company Details
Gracie Dixon Centre located next to the Bundaberg Library. Offers Men's Activities at the centre.
Bundaberg Regional Council operates the Centre from 9.00am to 3.00pm, Mondays to Fridays. The Centre provides an enjoyable social program for its members who are aged or younger people with a disability. The program which includes music, concerts, quizzes, cards, exercises, outings for drives & BBQ's is designed to maintain, develop and support the capacity for independent living and social interaction. Morning Tea & two-course midday meal are provided.
Carers also benefit by receiving much needed respite from their caring role. The Centre can arrange transport, if required, and offers its member's services including hairdressing and referral to podiatry and other allied health services.
The Gracie Dixon Respite Care Centre is proudly operated by Bundaberg Regional Council and jointly funded through Council, Queensland Government and Commonwealth Government.