Salvation Army Financial Relief
Emergency Assistance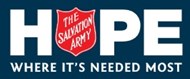 Company Details
Salvation Army Emergency Financial assistance
If you live in Queensland and need emergency assistance, please call us on 1300 371 288.
This phone number will connect you with our emergency relief assessment team. Your situation will be assessed by our qualified staff at our centralised phone centre.
Once you have completed your phone assessment, our SalvosConnect team will be able to refer you to one of our SalvosConnect community centres. There you will be able to collect your pre-approved material assistance, attend appointments, and connect with the local Salvos in your area.
Financial problems affect most of us at some point in our lives. If you're in crisis or worried about meeting your expenses, we have a range of services that can help you.
Emergency financial assistance
If you find yourself in an immediate crisis and in need of material or financial assistance, we have help available.
Our aim is to meet your immediate material needs, whilst working to understanding your situation. We want to assist you with any underlying long-term issues to prevent you from falling into, or deeper into, the poverty cycle.