Youth Insearch Foundation
Youth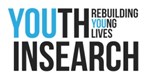 Company Details
Youth Insearch Foundation: operate within the Bundaberg District.
Youth Insearch is young people helping young people. Empowering young people aged 14 to 20 to turn their disadvantages into their advantages, enabling them to reach their full potential. Since 1985 Youth Insearch has helped over 30,000 young people to rebuild their lives, and currently assists around 1,000 young people per year across Queensland, New South Wales and Victoria.

Open: 9:00am – 5:00pm, Monday to Friday. Weekend programs available.