B Transformed Pty Ltd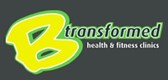 Company Details
B Transformed is a leading Allied Health group operating across Bundaberg and the surrounding district. We are responsible for the delivery of care in all community sectors, ensuring positive outcomes and providing an ethical approach in everything that we do. Our Allied Health group specialises in Psychology, Dietetics, Speech Pathology, Exercise Physiology and Occupational Therapy. In addition to our Allied Health Services, we run a fitness clinic specialising in group exercise classes, personal training and an accredited fitness college delivering Certificate III & IV in Fitness.

Services Provided: Dietician, Psychology, Occupational Therapy, Speech Pathology, Exercise Physiology, Personal Training, Group Exercise Classes, Gym, Fitness College.
Follow B Transformed at https://www.facebook.com/BTransformed . 
Services Provided
Exercise Physiology and Physical Wellbeing activities (Physical Wellbeing)
Occupational Therapy
Psychology
Dietician
Speech Therapy
View All Services
---
Support Categories
Improved Daily Living
Improved Health & Well-being
View All Support Categories