C.S.S. ~ Co-Ordinated Support Services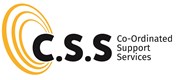 Company Details
Co-Ordinated Support Services (CSS) is a licensed human service organisation providing, reliable, therapeutic, specialist support to individuals and their families while positively impacting on their lives. Our disability support services assist people to reach their full potential at home, at work and in the community. We do this through a range of programs, including:
·        Skills based learning and leisure activities that focus on goal oriented educational and recreational programs;
·        Accommodation support services assisting individuals with a disability to maintain an independent lifestyle within their own homes;
·        Short-term / time-limited accommodation services that provide you and/or your carer an opportunity to take a break;
·        Plan Management
·        Support Coordination and much more
CSS are committed to working with new and existing clients and families to smoothly transition to an NDIS model of support. CSS is passionate about working with and partnering with other organisation to deliver a new era of disability support. CSS are excited about expanding its range of flexible and individualised responses through the NDIS.
Services Provided
Daily Personal Activities (Assist Personal Activities)
Support Coordination
Group and Centre Based Activities
Development of daily living and life skills
Assistance with daily life tasks in a group or shared living arrangement
Plan Management
Social and Community Participation
Accommodation/Tenancy Assistance
High Intensity Daily Personal Activities (Assist Integrate School/Ed)
Community nursing care for high needs
Household Cleaning
Yard Maintenance
View All Services
---
Support Categories
Assistance with Daily Living
Assistance with Social & Community Participation
Coordination of Supports
Improved Daily Living
Improved Learning
Improved Life Choices
Improved Living Arrangements
Improved Relationships
Increased Social & Community Participation
View All Support Categories